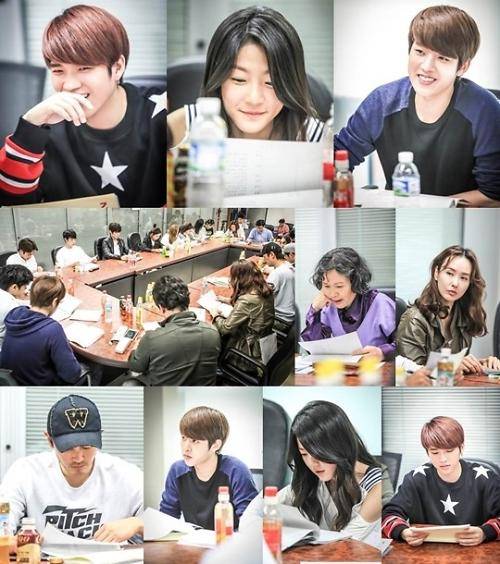 INFINITE's Woohyun and Sungyeol, Kim Sae Ron, and more brightened up the room with their visuals and bright personality during the script reading for KBS 2TV's teen fantasy drama 'High School'!
Director Sung Jun Hae, writer Lee Jae Yeon, Woohyun, Sungyeol, Kim Sae Ron, Lee Joo Shil, Choi Soo Rin, Jo Yeon Woo, and more were present for this script reading held in KBS New Building on the 13th. Woohyun and Sungyeol acted cold to each other as they will be rivals in the story vying for the attention of Kim Sae Ron. The main leads Woohyun and Kim Sae Ron showed their chemistry as well.
As mentioned earlier, the story follows male student Shin Woo Hyun (Woohyun), who gets saved from a dangerous situation by angel Lee Seul Bi (Kim Sae Ron), who becomes human as a result and the two end up falling for each other.
'High School' will premiere as a 20-episode drama next month!
Source: allkpop
Shared by L for (infiniteupdates.wordpress.com)
TAKE OUT WITH FULL & PROPER CREDIT