Infinite's Woo Hyun and Sung Yeol will face each other as rivals.
KBS 2TV's new drama High School (tentative) recently announced that Infinite's Woohyun and Sung Yeol have been cast as the male leads.
With the fans' attention gathering on the drama, High School revealed the summary as well as the description for each of the characters.
High School is a fantasy romance drama about an angel who ends up becoming a human by saving a male student in danger. Woo Hyun and Sung Yeol will each be acting as 'Shin Woo Hyun' and 'Hwang Sung Yeol,' who are friends at the same high school but become rivals who compete for love.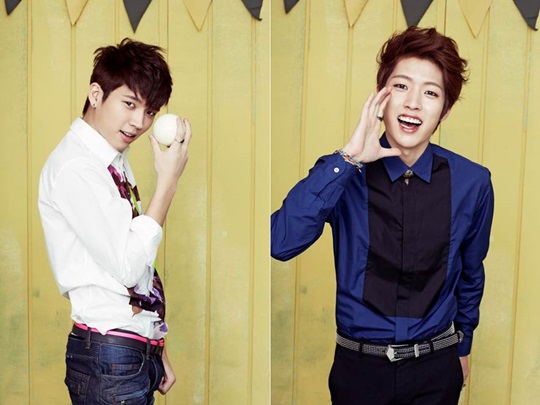 'Shin Woo Hyun' is a character who seems cold on the outside but has a warm and pure heart on the inside. He lives with his grandmother and runs a snack shop but he is popular due to his good looks and singing skills. He doesn't believe in love after getting abandoned by his parents but he slowly realizes the meaning of love after he meets angel 'Seul Bi.'
'Hwang Sung Yeol,' acted by Sung Yeol, is a perfectionist who is smart, athletic and talented. Unlike Woo Hyun, who follows his heart, Sung Yeol plans everything out and acts accordingly. He becomes rivals with Woo Hyun upon finding out that his stepmother is Woo Hyun's biological mother.
The production team of High School stated, "High School is a young people's drama that will be incorporating elements of fantasy. It will not only be depicting love and concerns of young people but will also deal with realistic problems in schools and families, which will bring out sympathy from the parents' generation as well. Woo Hyun and Sung Yeol will be showing awesome acting by synchronizing with their characters."
High School is a 20-episode long drama that is set to air at the end of May.

Source: OfficialMWave
Shared by L for (infiniteupdates.wordpress.com)
TAKE OUT WITH FULL & PROPER CREDIT