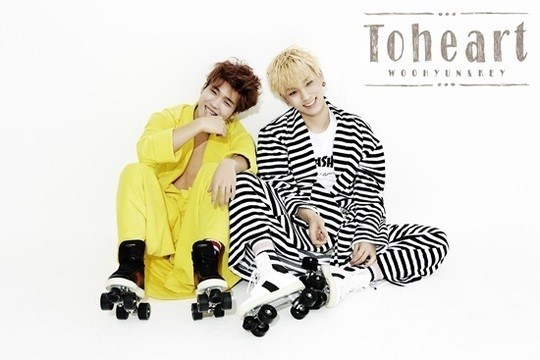 [OSEN=Kwon Ji Young] Hybrid collaboration duo Toheart showed an incredible power of recording 1st place on amount of albums sold for 'The 1st Mini Album'.
Woo-hyun and Key's Toheart released 'The 1st Mini Album' on March 10th and showed an incredible power of selling 100,000 albums on the day of its release and won 1st place immediately on Hanter Chart, the album sales accumulation website. Not only that, they still maintained 1st place on March 11th, the second day and rose up as a new powerful figure in album sales.
Woo-hyun and Key each are the members of the group INFINITE and SHINee, and are the singers who also showed powers in album sales during each of their group activity. To this, the attention of the song industry is focused on how much more of that power that Toheart, who is made up of two powerful figures in album, is going to show.
Toheart is achieving a noticeable record in not only the album but also in the music. Toheart's title song 'Delicious' won 1st place on music websites Bugs Music and Soribada as soon as the song was revealed and is currently still maintaining top ranks in various music websites.
Toheart's 'The 1st Mini Album' reinterpreted 1980s vintage style in Woo-hyun and Key's unbalanced and well-refined charm and is an album that gives enjoyment to the ones who listen with the different kind of harmony of two vocals. Other than the title song 'Delicious', there are total 6 songs of 'Intro', "Maze', 'You're My Lady', 'Tell Me Why' and 'Departure' and so on.
Meanwhile, Toheart successfully finished the first performance through a showcase and is going to officially start promotion activities on music shows starting from March 13th.
Source: OSEN + Star Naver
Shared by L at (infiniteupdates.wordpress.com)
TAKE OUT WITH FULL CREDIT!