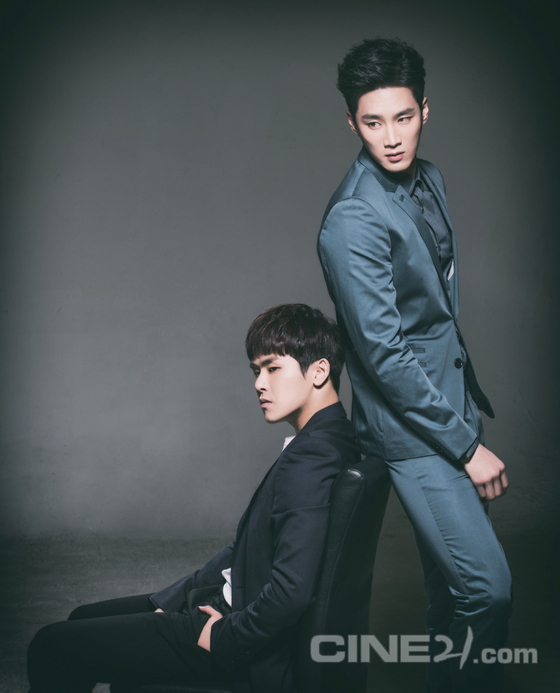 In <Hiya>(Director Kim Jiyeon), troublemaker older brother Jinsang (AhnBohyun) is actually just protective of his younger brother. Aspiring singer Jinho (Lee Howon) is hating his older brother because he misunderstands him. Jinsang tries hard to recover their broken relationship, but for Jinho, his brother is just tiresome. On the other hand, actor Ahn Bohyunand Lee Howon was so close to each other, making us surprised. It was the first movie for both of them, so it seems like they shared their anxiety and burden together. We had an interview with Lee Howon, who challenged acting with his real name, not 'Hoya of INFINITE' and Ahn Bohyun who said he want to take the tag 'Model actor' off from him.
- What did you think about your character when you received scenario first time?
Lee Howon : Our director told me that she watched every show I appeared, and she already knew my own character and past. So Jinho was similar with me a lot. It felt not like acting, but more like showing what I used to be.
 
- Howon, your main job is a singer, but you played a role an 'Aspiring singer' who has to spend a long day to achieve his dream. How did you feel to act unfamiliar with familiar things?
Lee Howon : Was it that obvious that I felt awkward? (Laugh) Director even asked me to make a rap, so I made it by myself. If someone made a funny scene for me, then I would just try my best on acting. But I had to make it by myself so I had burden on my shoulders.
 
- We thought you will start your next acting right after finishing <Reply 1997>, but you took a hiatus.
Lee Howon : When I was in middle school, my dream was to be a movie director. I shot music video with my friends in a team, and it was so interesting to act and shoot. I often had surprise camera for my friends (Laugh) I became trainee after ups and downs, and after debut I was too busy with going up. After I earned some recognition I went to audition for <Reply 1997> and thankfully director liked my acting. Before becoming singer, I performed in local event like 'Hairtail festival'. I could remind of that feeling of my first stage while shooting <Reply 1997>, purely excited. After <Reply 1997>, some scenario was given to me but I haven't learned about acting legally, so I thought it wouldn't last for a long time if I just consume things. I wanted to move forward, slowly. I studied and practiced acting alone, while working as a singer. After 3 years, I was casted to <The mask> and <Hiya>. As a singer, I have an obvious goal to be the best in the world, but I want to work on acting with comfortable mind, associating with various people.
 
- How did you keep in tune with each other as brothers?
Lee Howon : We often read our script together before shooting. Our house is close, so we just met each other, ate, drank, and also exercised together. You know that, guys become close while exercising together. He also came to my concert a while ago.
AhnBohyun : In the venue, I turned on Melon application to see the lyrics and sang along. (Laugh) Our hometown is Busan so we got close easily.
 
- How's your relationship with your real siblings?
Lee Howon : I have two brothers and I am the second child. I was also in bad terms with my older brother. Almost spent 5~6 years without talking with him in the past, so I could immerse myself in Jinho.
 
- You spoke Daegu dialect naturally.
AhnBohyun : Busan and Daegu is in the same province of Kyeongsang-Do. But their dialect is quite different. We tried our best to show reality.
Lee Howon : People who speak dialect have 'Dialect-pride'. I didn't want to hear things like 'Huh? That accent is weird.', so I mastered the intonation eagerly. We had many outtake because of intonation.
 
- In this movie, your talent as an idol was remarkable.
Lee Howon : From the first place, our director said she will make a movie which attracts interest from female audience. They put an effort to show our charms during shooting.
 
- There was also some scenes showing your upper body. You both might had exercised a lot.
Lee Howon : Whew. (Laugh)
AhnBohyun : Hoya had two to three scenes of showing his body, but it was cancelled later. Hoya exercised a lot than me.
Lee Howon : There was a scene when Hanju (Kang Minah) have a crush on Jinho after accidently watching him in the dressing room. Director even asked me about that for the first, saying that it is an important scene. So I exercised for 5 months eating chicken breasts to make it perfect. I had scar in my body so I also got a laser treatment. But the day before shooting, I received a message that this scene was cancelled. It was futile. (Laugh)
 
- What was the most difficult scene for you to act?
Lee Howon : ...The rapping one. (Everyone Laughed) Director asked me to write a rap with dialect so I wrote the lyrics for 2 months. At that time, <Show me the money> was big trend so every staff laughed a lot.
AhnBohyun : They even dropped their camera while shooting. (Laugh)
Lee Howon : I also put some trendy words at that time, but our movie will be released in 2016 so I am worried if it won't sound funny. The audience might say 'What is he doing?'. (Laugh)
 
- You finished your world tour in Februrary, and <SHOWTIME INIFNITE> aired last episode on 25th Feb. Now it's time for you to rest.
Lee Howon : Now I have my own time, so I am considering of going on a trip. I went to Jeju Island alone for 3 nights 4 days, but honestly, it was 'Nojam (Not fun at all)'. (Everyone Laughed) I expected that I might get along with strangers when I go on a trip alone, but actually I had to avoid meeting too many people so it never happened. Usually I can stay well alone, but to be alone while traveling was lonely.
 
- What is your future plan as an actor?
Lee Howon : In <You got served(2004)>, Omarion Grandberry dances greatly. I thought he is born to be a dancer, but he also acted well. So I searched about him but he was singer. I want to be like Omarion, who can act, dance, and sing well.
 
SOURCE: CINE21
Translated by: Hyon of Infinite Updates
Please take out with full credit. Thank you.