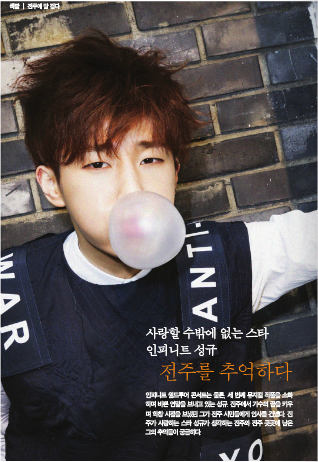 Star who deserves to be loved, INFINITE SUNGKYU
Reminiscing the past days in JeonJu.
Sungkyu is having busy year-end with INFINITE's world tour concerts, and also with his third musical. He made a bow to citizens of Jeonju, as one of the people who spent his school days with his dream of being a singer in Jeonju. We are wondering about how he thinks about Jeonju as a star loved by Jeonju, and also want to know his reminiscence left in Jeonju.
Q. You are having your busy days recently. How are you getting along?
Recently, I'm appearing in the musical 'In the Heights' with Dongwoo. INFINITE World tour has started last August, so I'm also meeting our fans from all over the world with our concert. The world tour will last till next year, I will be spending my time with International fans. We are working on an album which will be released in Japan. Ah, We are also preparing our new album in Korea. Please look forward to it and give us lots of cheers.
Q. We heard that you usually talk about Jeonju a lot. Is there any episode that comes into your mind when someone says 'Jeonju'?
First, I spent half of my life in Jeonju as a student. Many memories with my friends flash across my mind. However, I had the role of catching students in front of the school gate. (laugh) And, as you know, there is a famous choco-pie bakery in Jeonju. It was famous since a long time ago before I was born, so I can remember that I bought and ate that choco-pie. After debut, I went to 'Jeonju Gaeksa' to shoot a variety program and that was interesting. It looked like it changed a bit but not a lot. I felt glad and familiar, so I was happy for all day long.
Q. Which place do you have the most memories in Jeonju?
I can think of many places because Jeonju has many reminiscences and memories with me, but if I want to say the most important place, I would say that it is my house. Still, there are my pictures taken from when I was a baby days to my high school days in my room, and there are also my belongings left.
My parents are still living in Jeonju. I made lots of funny memories in Gaeksa with my friends and in front of Chonbuk University. I graduated in Chonbuk National University High School. So I went to Chonbuk University a lot during my high school days, that place is also full of memories for me.
"I graduated Chonbuk National University High School. So I went to Chonbuk University a lot during my high school days, that place is also full of memories for me."
Q. You are now living out of your hometown. If you have any Jeonju food you miss, introduce it please.
There are so many delicious food coming into my mind when I think of Jeonju. As common people would think, Bibimbap, Choco-pie and Supermarket beer are famous. There are many people who goes to Jeonju just to eat. Koreans call Jeonju as 'the place of taste', aren't we? I think all Jeonju food is really delicious. There are so many food coming into my mind, so what should I introduce to you... Ah, Kongnamul Gukbap (Bean Sprout Soup with Rice). Kongnamul Gukbap in hot earthen bowl is the right answer for these cold days.
Q. Lastly, is there any message you want to leave for Jeonju citizens and your fans?
I heard that our INFINITE fans made a donation to Jeonju Briquette Bank in the beginning of this year. My heart is warm because you always take the lead in good deeds. There is a saying I always say. 'Everyone, hope you always be happy'. And thank you for the love that you always send to me. Jeonju citizens, I always get my power because of the cheering from my hometown. Thank you. The weather is cold, so please be careful of catching cold. Hope all of you realize your wishes in the new year. Be rich!
[Profile]
Sungkyu : Main Vocal of boy group 'INFINITE'
He was born in 1989, graduated from Chonbuk National University High School, and debuted as INFINITE in 2010. He is the main vocal and leader of INFINITE. Recently he released his second solo album '27'.
Source: http://www.jeonju.go.kr/ebook/www/ebook/201601/e-201601.html#p=23
TRANS BY: HYON OF INFINITE UPDATES