[caption id="attachment_12948" align="aligncenter" width="540"]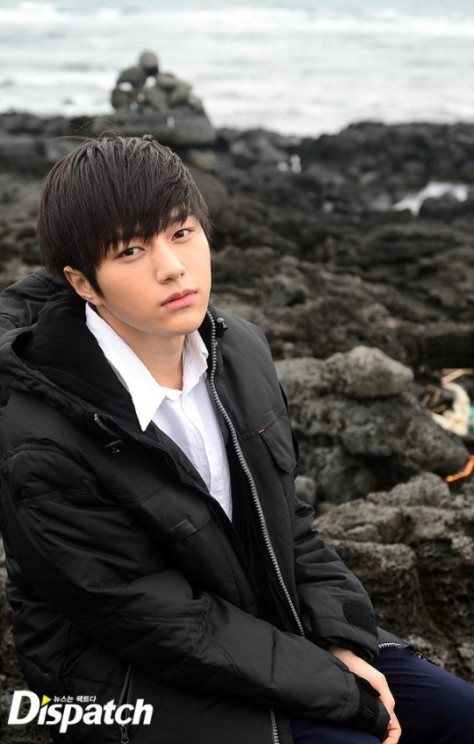 Did you say I came from a manga?[/caption]
[caption id="attachment_12956" align="aligncenter" width="540"]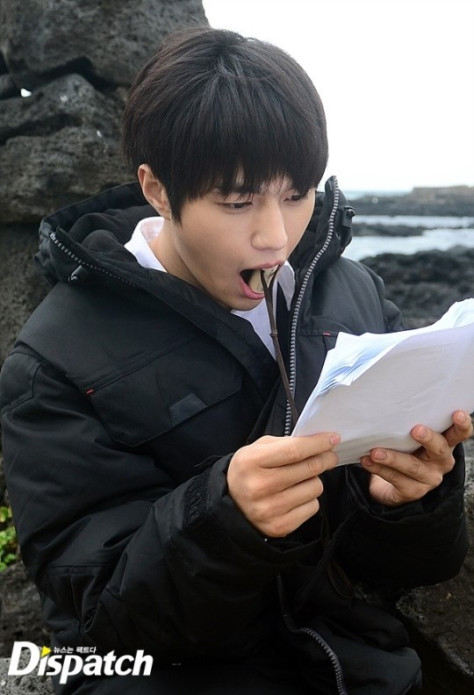 Biting on a cork.[/caption]
[caption id="attachment_12959" align="aligncenter" width="540"]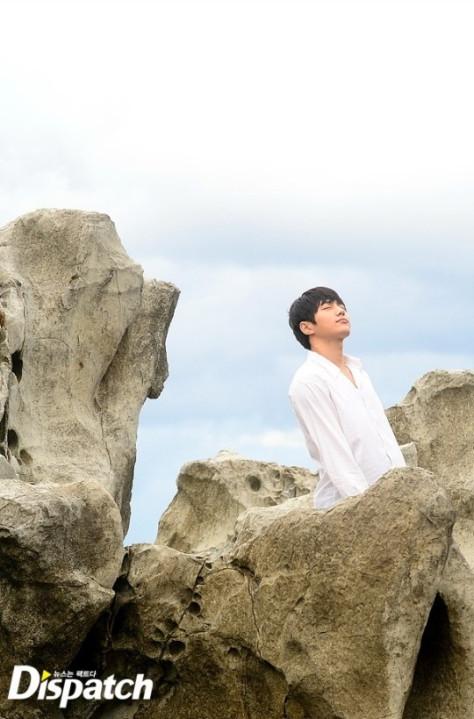 Did you say I came to do a photoshoot?[/caption]
[caption id="attachment_12964" align="aligncenter" width="540"]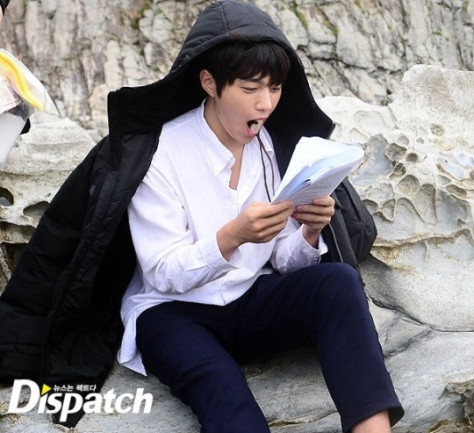 I'm biting on a cork and...[/caption]
[caption id="attachment_12968" align="aligncenter" width="540"]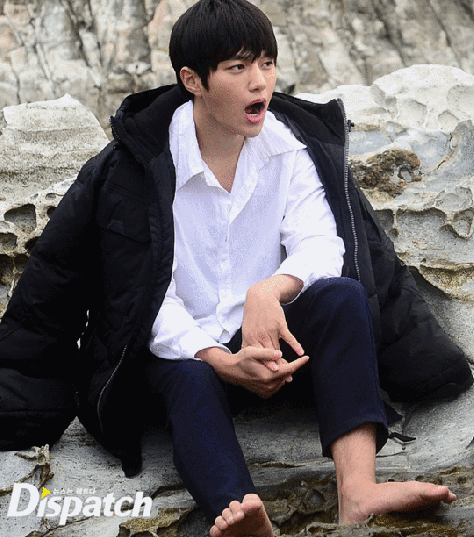 A, E, I, O, U (practicing pronouncing the Korean alphabet)[/caption]
L is currently studying hard. Today is the last shooting. And dispatch is at the location of the shoot. First let's look at the container box building in Soegwipo.
[caption id="attachment_12975" align="aligncenter" width="540"]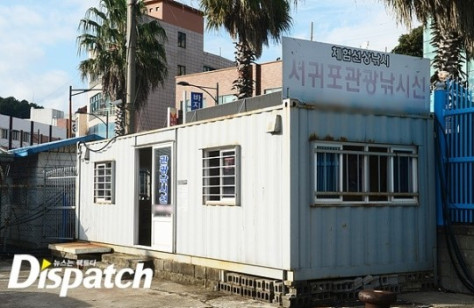 In this old container box building,[/caption]
[caption id="attachment_12981" align="aligncenter" width="540"]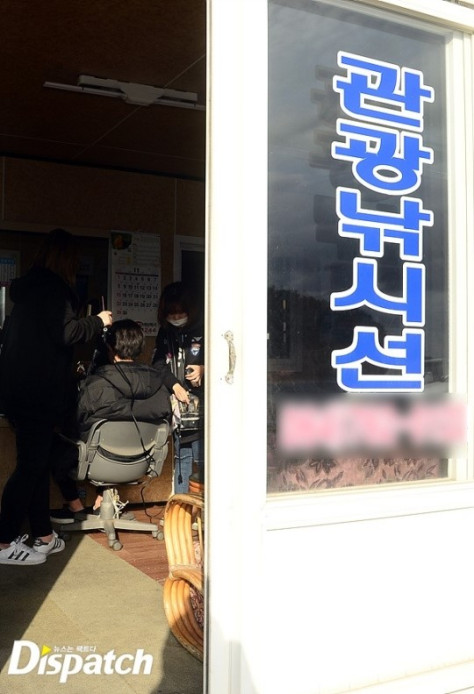 there is INFINITE L.[/caption]
[caption id="attachment_12985" align="aligncenter" width="540"]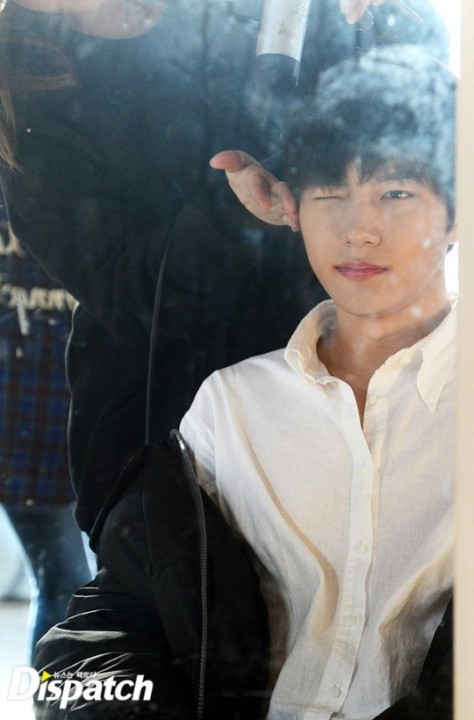 Relying on this murky mirror he's getting his hair done.[/caption]
[caption id="attachment_12989" align="aligncenter" width="540"]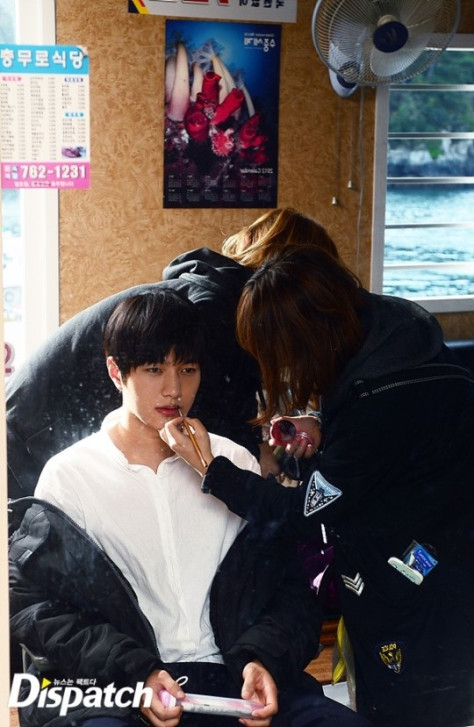 And even his makeup done.[/caption]
[caption id="attachment_12993" align="aligncenter" width="540"]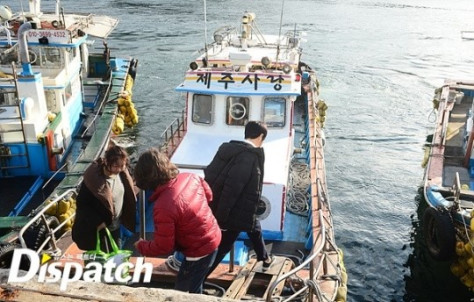 And gets on the boat with extreme familiarity.[/caption]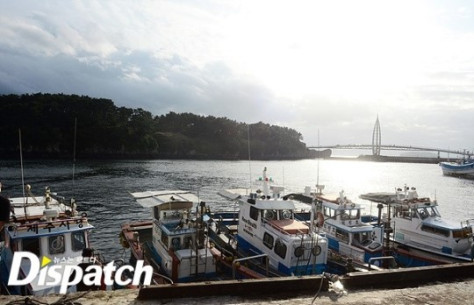 This was so strange to us, the L we knew was the Hallyu idol and the '만찍남' (T/N: Short for describing a guy who looks like he walked out of a manga). But the L we met in Jeju was a rookie actor who was starting out like every other rookie. This rookie actor was getting his makeup done in a container box and biting on a wine cork plug.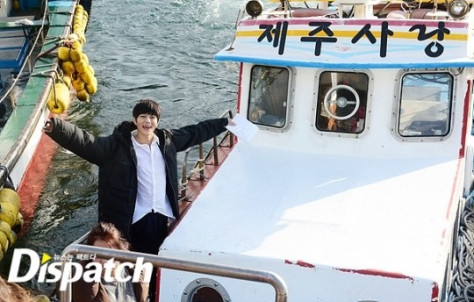 While going over his script… To be honest there is not a big barrier to the big screens for idol actors. Many believe it's easy to get a role in a movie because they have their fandom to back them up.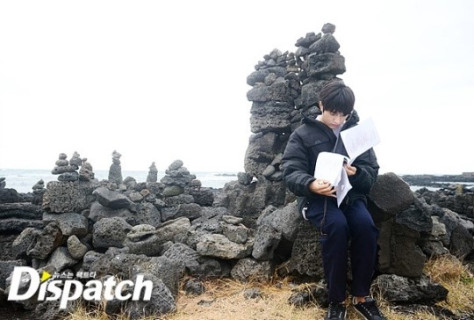 So L's choice of movie was out of everyone's expectations as he chose a documentary movie as his big screen debut.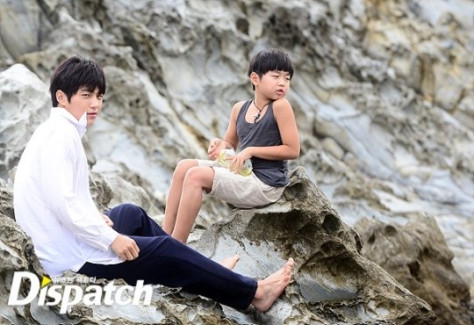 L: "It's a story about the friendship between a young boy and a shark. It also touches upon the seriousness of the destruction in ecosystems. I picked to participate in this film in order to bring awareness to the extinction of sharks."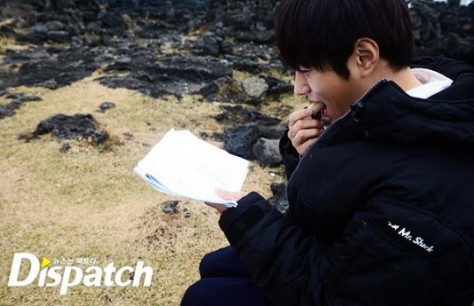 On this day, the last filming was in process. L showed his passion as a rookie actor, sitting on the boulders as a chair. He was absorbed in his script in his very own waiting room.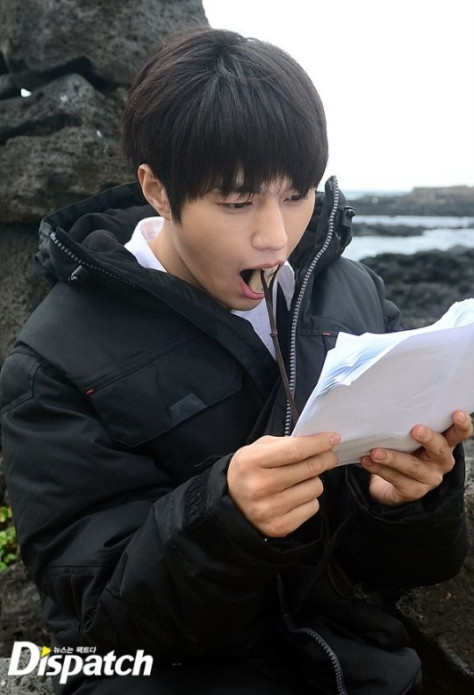 Maybe he was possessed by a shark? He caught our attention as he bit on the cork. L decided to start practicing from the basics and used the cork to help him. L "I wanted to fix my enunciation. So I bit on the cork to practice. In order to deliver my lines more accurately I decided to read the scripts using the cork.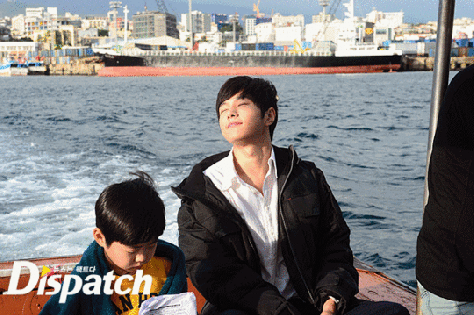 The last scene was at Moonsom. It was a deserted island that can be reached by boat in 10 minutes from port Seogwi. It was very beautiful. The ocean and boulders created a piece of painting.
[caption id="attachment_13032" align="aligncenter" width="540"]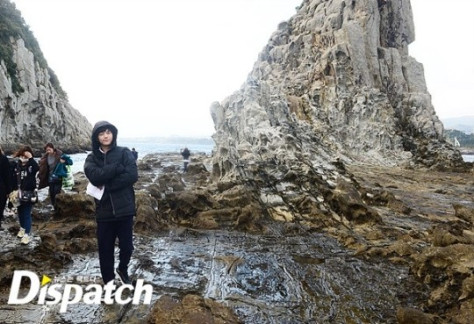 L in Moonsom.[/caption]
[caption id="attachment_13046" align="aligncenter" width="540"]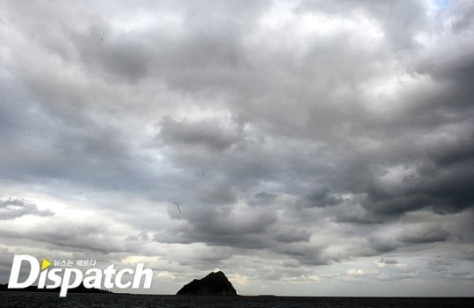 Grey clouds and,[/caption]
[caption id="attachment_13050" align="aligncenter" width="540"]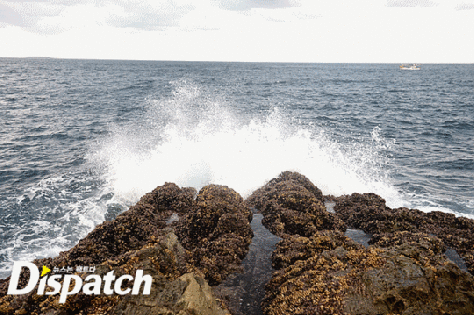 Furious waves.[/caption]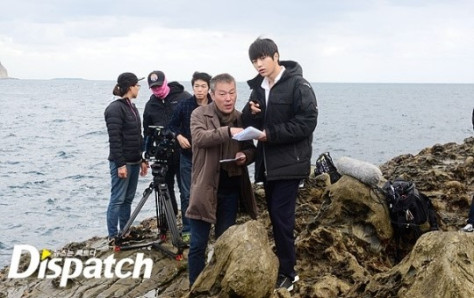 Due to sudden changes in weather they had to quickly finish the filming. L again showed his professionalism despite the filming being rushed. He began practicing with his cork again. Director Seohyunho: "L has shown strong passion in acting and knows well what he is lacking. When he had time he would go always in training to be better. And I am very thankful for it."
[caption id="attachment_13057" align="aligncenter" width="540"]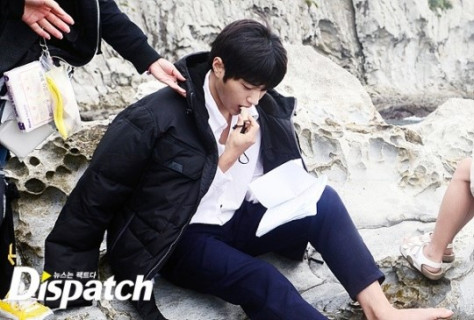 Practicing his last lines.[/caption]
[caption id="attachment_13060" align="aligncenter" width="540"]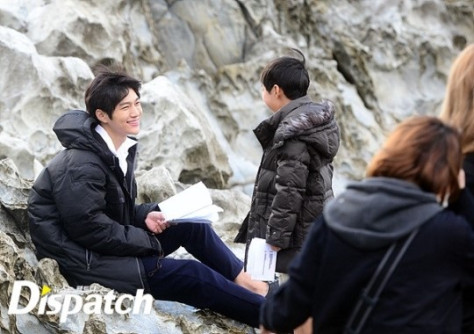 Kon-ah, are you ready?[/caption]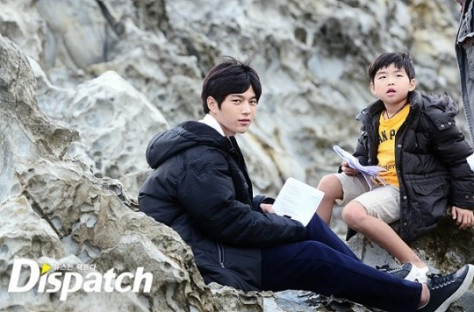 Is there any love lines you ask? There is the special chemistry between the two guys. As L says himself. Let's hear about it. "Let me introduce my co-star Kon. He plays the little boy role, Banggu who loves the ocean! He is a very bright and cheerful kid. He's also very good at swimming and we have very good teamwork." A.C.T.I.O.N.
[caption id="attachment_13067" align="aligncenter" width="540"]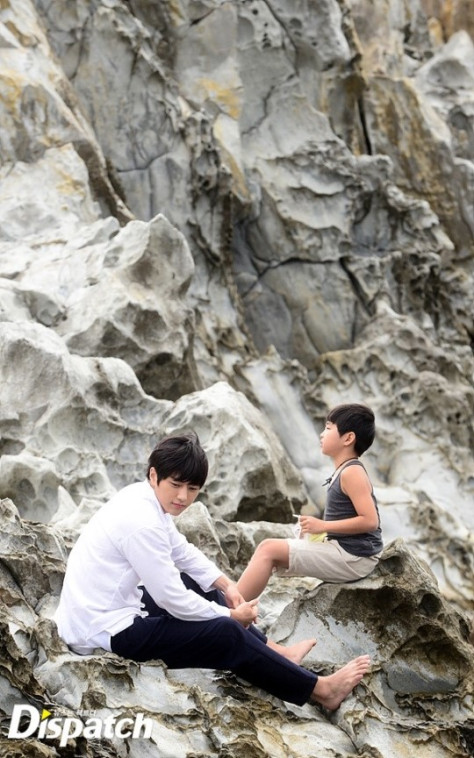 L x Banggu[/caption]
[caption id="attachment_13070" align="aligncenter" width="540"]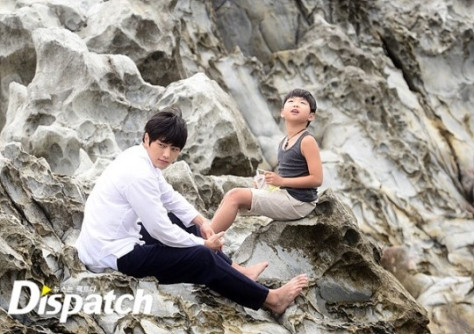 This is not a magazine cover.[/caption]
[caption id="attachment_13073" align="aligncenter" width="540"]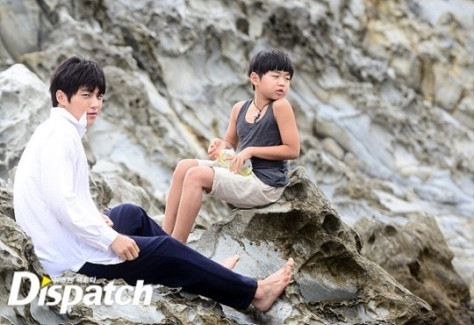 It's a movie.[/caption]
[caption id="attachment_13075" align="aligncenter" width="540"]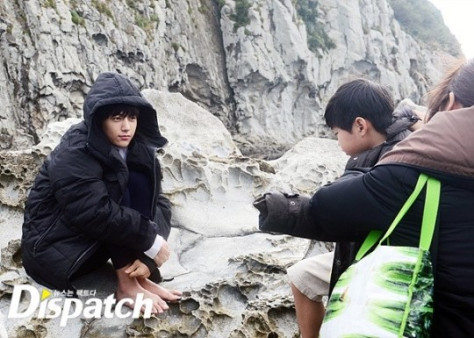 Kon-ah, you're the best![/caption]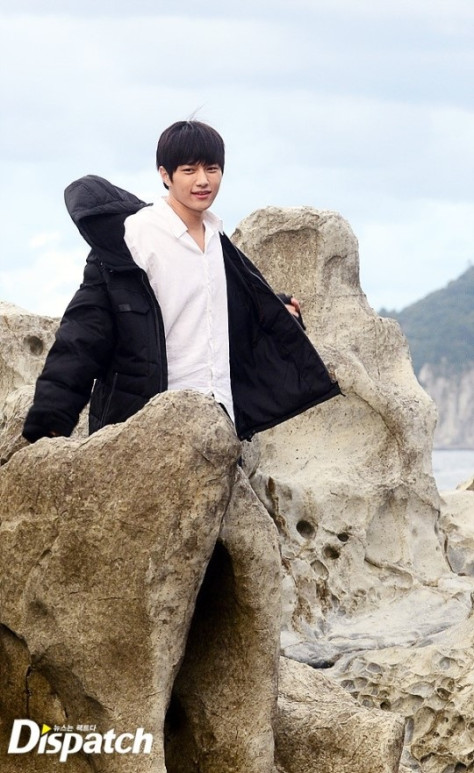 For L there is not one scene that he doesn't try his best at. Not giving any attention to the piercing winds every time he is not satisfied with his acting he would always ask the production team for permission to redo the scene. And the result of the video was like a masterpiece.
[caption id="attachment_13082" align="aligncenter" width="540"]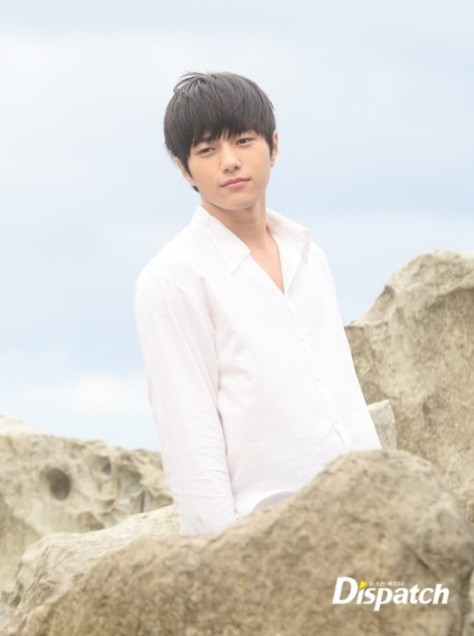 The whale shark, L.[/caption]
[caption id="attachment_13083" align="aligncenter" width="540"]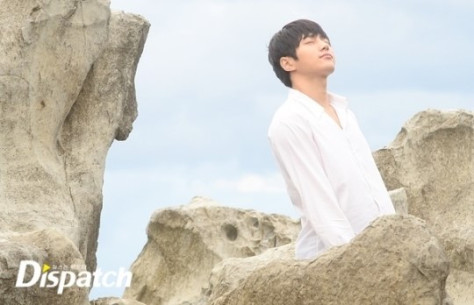 Closed eyes.[/caption]
[caption id="attachment_13084" align="aligncenter" width="540"]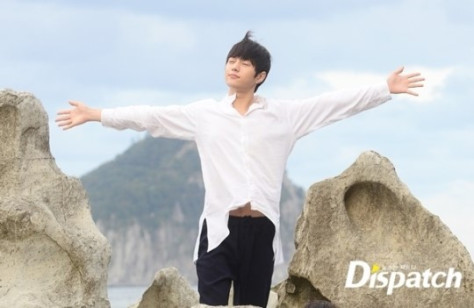 Embracing the winds.[/caption]
[caption id="attachment_13092" align="aligncenter" width="540"]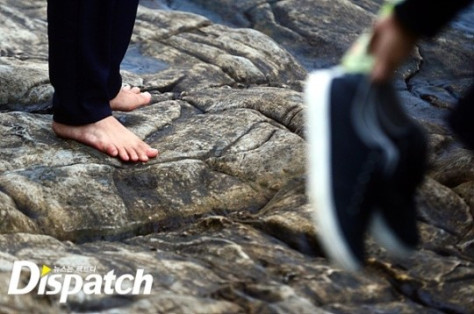 Should we get into the last shooting?[/caption]
"Just like now, let the voices of the ocean ring in your ears. Don't forget the sincere love you felt for me and the ocean."(Last lines in his movie)
[caption id="attachment_13090" align="aligncenter" width="540"]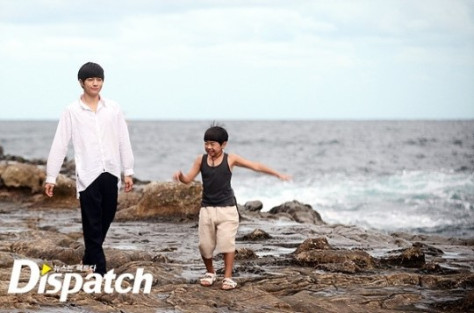 In the voice of the sea.[/caption]
[caption id="attachment_13087" align="aligncenter" width="540"]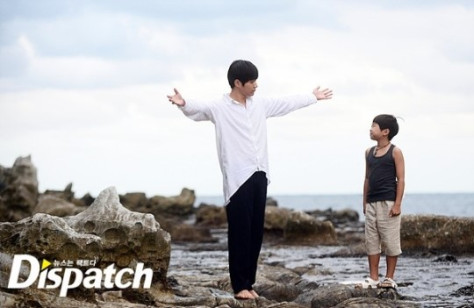 Let it ring in your ear.[/caption]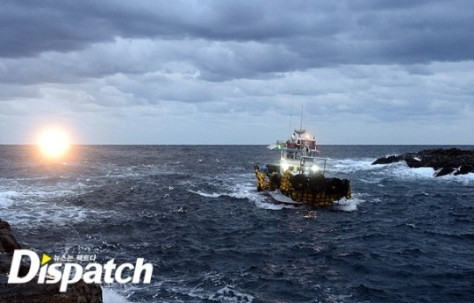 Without realizing the sun was setting and it was already time to leave the island. The team of "Mr Shark" bid their goodbyes to each other and took a picture for the last time.
While waiting for the boat we took a brief interview. First, we asked to the director what his reason for casting L was. Director: "I felt L's mysterious atmosphere suited this movie well. His deep eyes and facial expression was also very good. I felt he can reach out to the viewers and make them more comfortable while viewing this movie." interviewer: "But for L, it's his first time appearing in a movie and it's also his first time as the main role. He is still a new actor in the scenes he has only been in 5 acting gigs. Did you not think that his acting may not be good enough?" Director:"L is a actor that tries to communicate. This is more important than acting skills. He would always try to analyse the scenarios, reading it and discussing it with us non stop. So he gave me a lot of trust. There was also another story where L made the director moved. In between L's busy world tour schedules he was able to obtain a skin scuba diving licence. He showed that he put effort in his work by getting the licence to go into the underwater filming himself. "I suggested to L to wear goggles when he went in the water but he rejected right away because it would not make sense if a shark wore goggles in the water. So he jumped into the ocean directly.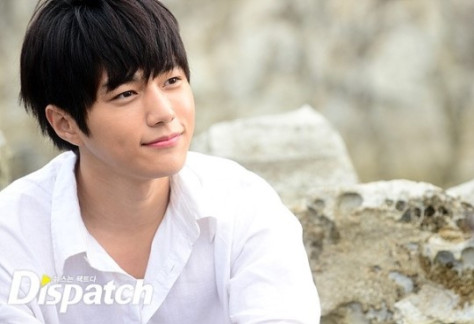 The producers were all surprised by his passion. L just listened quietly nearby perhaps remembering the days that he went into the water. L: "I went into the ocean with no equipments. I had to exhale all the air in my body in order to sit balanced in the water. So for me it was really hard to have to open my eyes and try to find balance and even act at the same time." Interviewer: "It must be hard to open your eyes but how was the world like under water." L: "It was amazing. The seaweed and the fishes created a magnificent sight. I was very proud of how the underwater scenes turned out so beautifully. Also I would like to thank all my teachers again who helped me."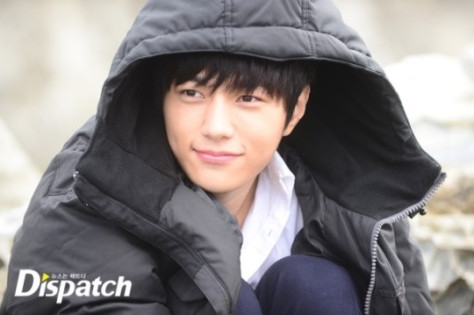 Finally the director said to L Director: "I was moved by your passion. I was moved again by your thoughtfulness to the awareness of the environment. Thank you for showing your best to us until the very end. I hope you continue your acting career too." And L replied: "I felt this movie helped me to grow a lot. Maybe it's the happiness in learning. I learnt to find fun in acting. I was also able to deeply think about the environment during this time."
[caption id="attachment_13088" align="aligncenter" width="540"]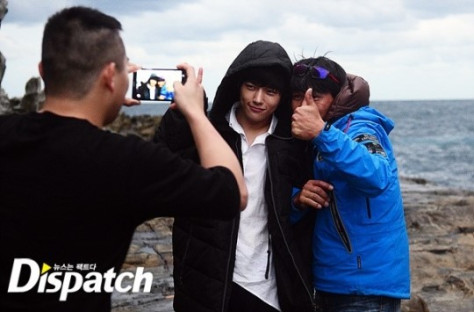 Thank you director.[/caption]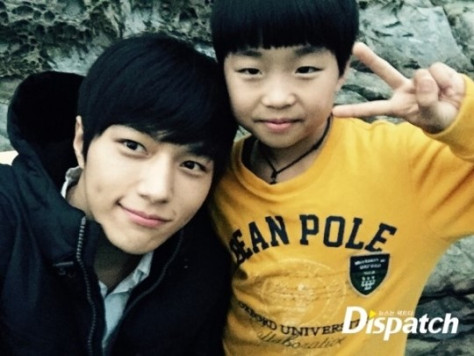 Banggu, don't forget your Hyung. The Mr. Shark filming has completely ended. Right after finishing his filming L went back to preparing for his world tour and the next day was to leave for Singapore. L: "INFINITE is meeting the fans from all over the world through the world tour. It is very hard on us physically but it's okay because we are doing it with the fans. I will also come back to meet you guys soon as actor L."
[caption id="attachment_13095" align="aligncenter" width="540"]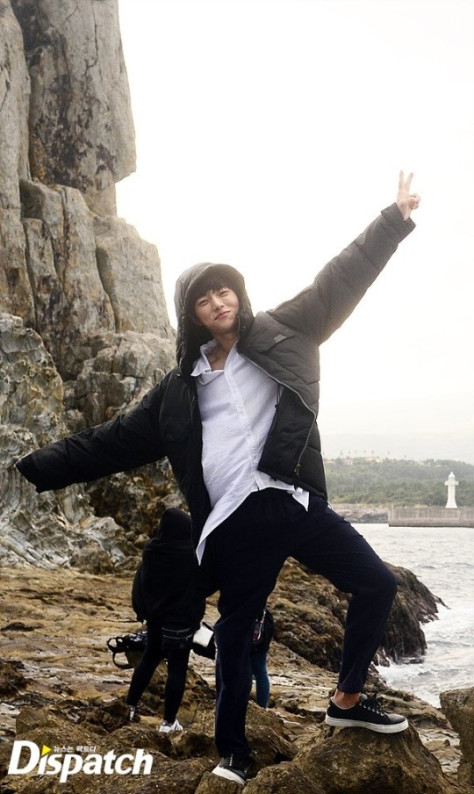 First lead role.[/caption]
F
[caption id="attachment_13093" align="alignnone" width="540"]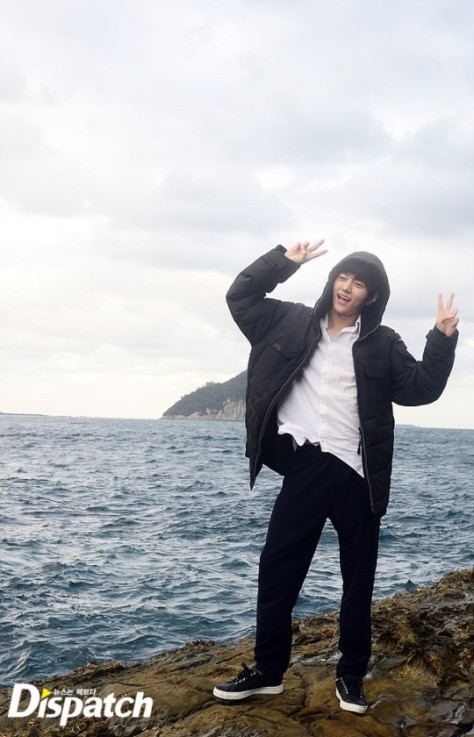 Please anticipate it.[/caption]
[caption id="attachment_13094" align="alignnone" width="540"]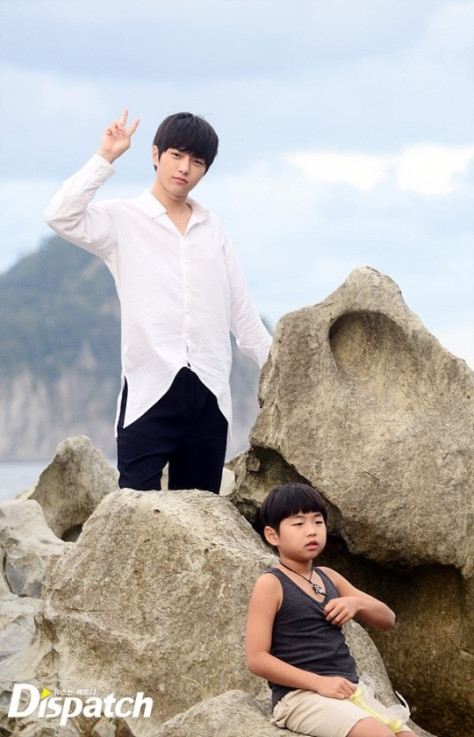 See you next year![/caption]
Source: http://m.star.naver.com/infinite/news/end?id=6567161&langCode=ko#
TRANS BY: Pris of @InfiniteUpdates