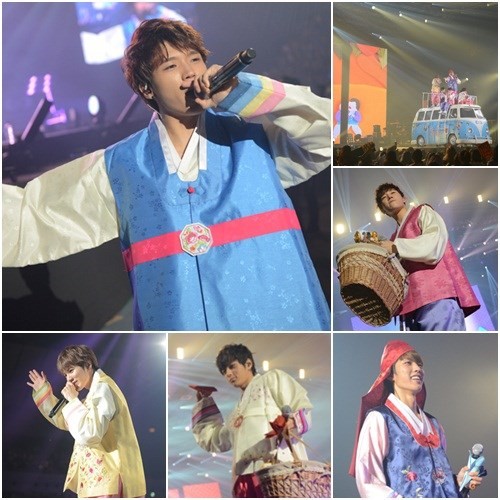 Just be like INFINITE.
Chuseok is a traditional Korean holiday. The whole family gets together and enjoys the full moon. However, such luxury cannot be afforded for an idol star. Will they be working that day? INFINITE suggests a 'model answer' of how to spend Chuseok.
 
INFINITE's first world tour 'One Great Step' was held in Yokohama Arena, Japan, on 19th. To be accurate it was August 15th, Chuseok, in lunar calander. Although the 7 members were in Japan, their hearts were in their hometowns.
 
It was proven by the fact that INFINITE gave a 'hanbok' performance. The members went up on stage wearing Korean traditional costume, hanbok. They spread ▶ Korean traditional holiday, ▶ Korean costumes and that ▶ they were Korean idol stars.
 
Let's take a look at the pure genius hanbok performance.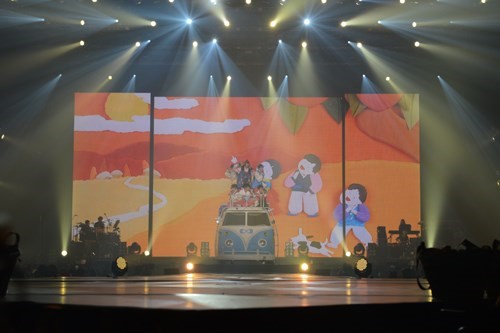 At the climax of the performance, as the background music of 'That Year's Summer' started to fill the air, INFINITE appeared on stage riding on a lift shaped like a bus. Their outfits were beyond imagination, they were wearing colorful hanbok. The Japanese fans could not tear their eyes away at the unexpected surprise performance.
 
According to the staff at the agency, INFINITE had thought of the performance themselves.
 
"It's a performance for the fans back at home. Although INFINITE is not going to be spending Chuseok at home, the members wanted to give their Chuseok message even from far away. Also, the group wanted to tell Japanese fans about Korean costumes and the meaning behind Chuseok," said the staff.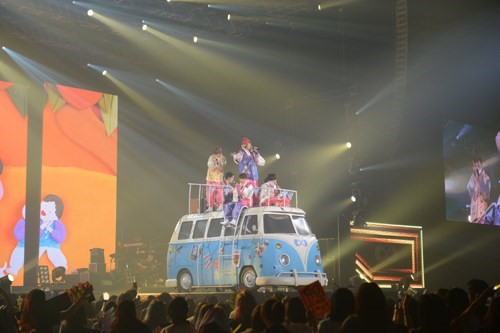 Hanbok makes even idol stars like INFINITE dance. The members swayed back and forth on top of the lift. Have you seen an idol star like this? They look much more at ease in hanbok. Their faces shone like the moon.
 
There is so much more to see on stage. On the enormous screen is a full moon. A ripe persimmon can be seen as well as kids running around. Together with INFINITE's hanbok performance, it was a perfect 'Chuseok performance'.
 
☞ Let's take a look at INFINITE members in hanbok.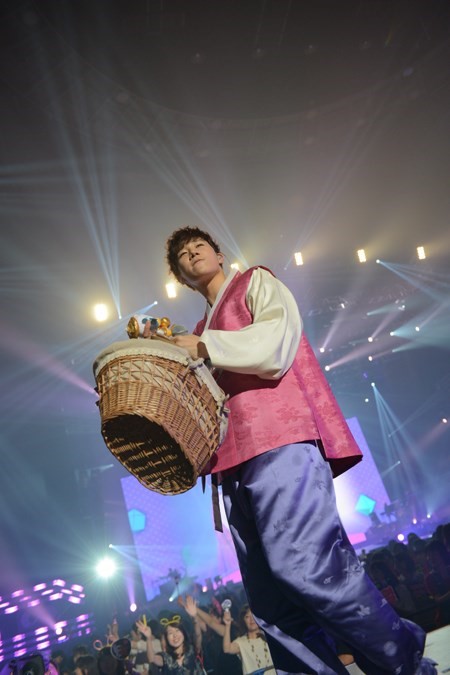 Up first is Sung-kyu. He is wearing a white top, and purple pants with pink overall. The charismatic image of the leader is nowhere to be seen. He has transformed into a real cutie and is making eye contact with the fans.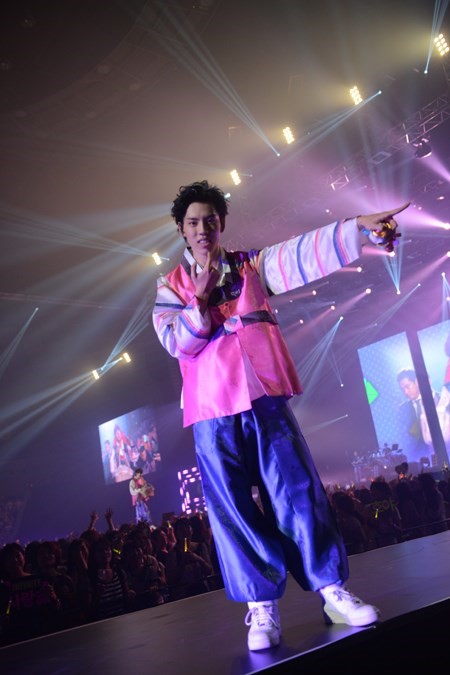 Next is Dong-woo. He is wearing colorful top and purple pants and pink overall. He is wearing sneakers instead of traditional shoes, but it was a necessary choice due to the group's fierce choreography.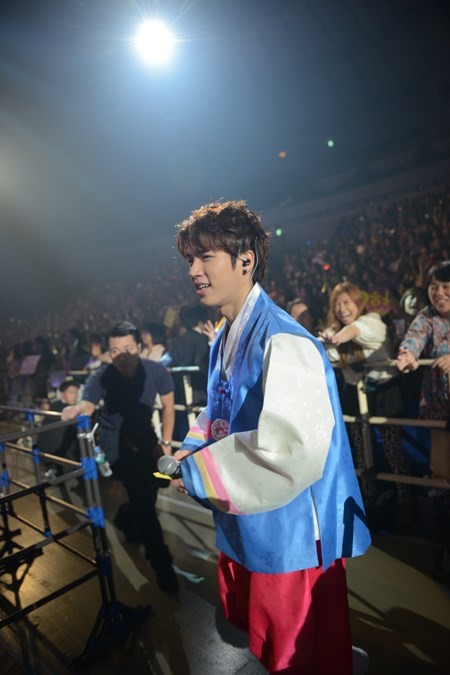 Woo-hyun is wearing colorful top, pink pants with colorful overall. His adorable face and that colorful top match perfectly.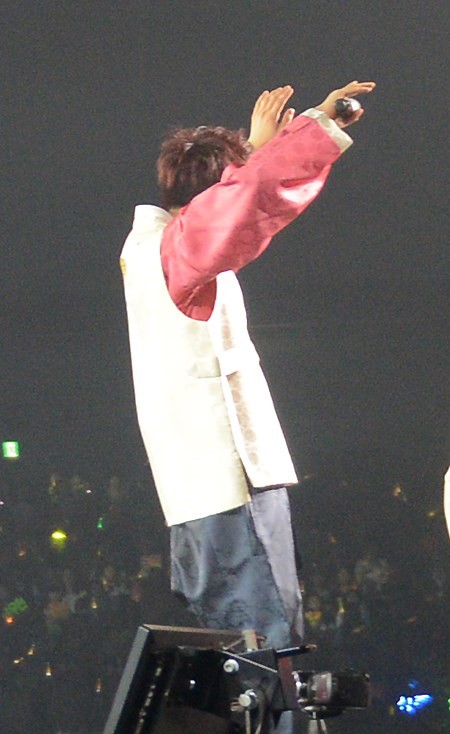 Hoya, the rapper, is wearing pink top and navy pants with white overalls. He looks lean and his wide shoulders are even more accentuated by the outfit.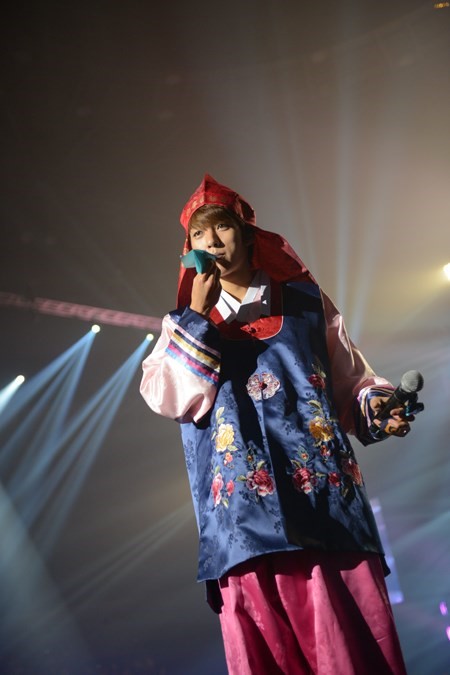 Sung-yeol's hanbok stood out. He wore a light pink top, dark pink pants with navy overalls with flower embroidered on it. Together with traditional Korean hat, he looks like he just stepped out of a history book.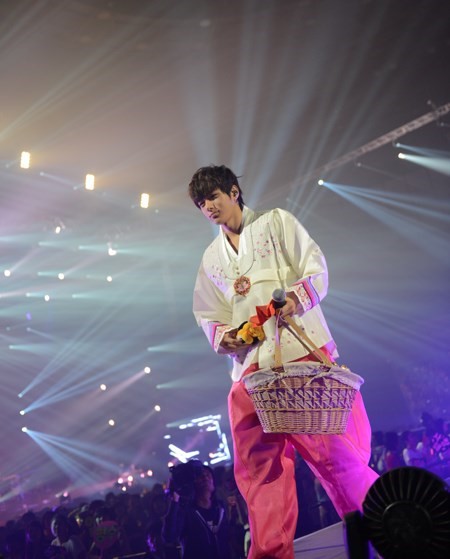 L is wearing flowered embroidered top with pink pants. The color perfectly matches his soft nature.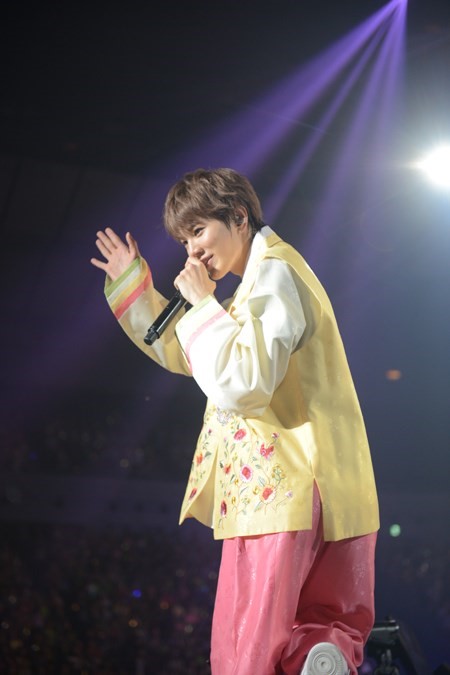 Sung-jong, the youngest, is as always, cute as ever. He is wearing a white top and pink pants with flower embroidered yellow overalls. The outfit is perfect for 'baby face' Sung-jong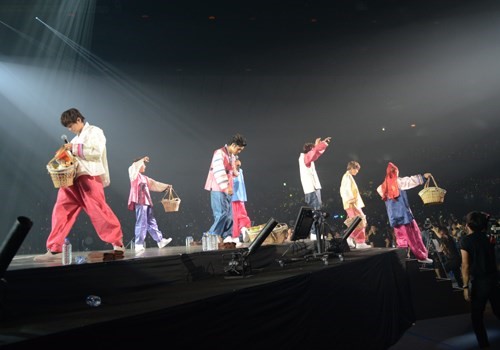 That was not it of INFINITE's hanbok performance. There was more to it. The members threw paper planes, hand written letters and presents at the audience seats.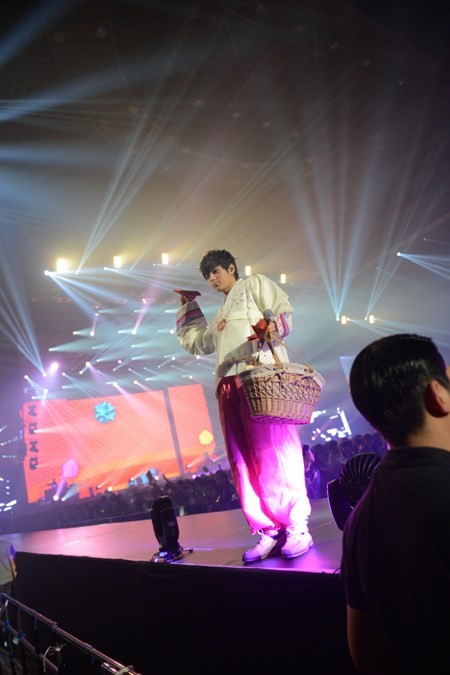 Last but not least, INFINITE announced 'Today is Chuseok' in fluent Japanese.
 
"Today is Korea's Chuseok day. Chuseok is a traditional Korean holiday. It is also most important holiday of the year together with New Year's. People were hanbok and greet guests in Chuseok. We have worn hanbok to greet you," said Infinite.
 
By = Na Ji-yeon (Dispatch)
Photo, Video = WOOLLIM Entertainment
 
source: Dispatch via Naver Start Cast
posted by: ANJELLIE_KA for INFINITEUPDATES