---- The dance of INFINITE, which has succeeded in differentiation with
other idol groups is overwhelming.
【WooHyun】
We always place much emphasis on synchronizing our each 7 members' movement.
A lot of focused practices are needed for that, and we have to be careful
so that we can show the result of our efforts.
【Hoya】
I've practiced dancing in front of mirror for hours every day since trainee days.
We usually film our choreography just before finishing practice to check if
our choreography was perfect or not while pausing every minute.
If there is someone who was not perfect, we point it out so that we can get over it.
That's our routine which we have continued up to now.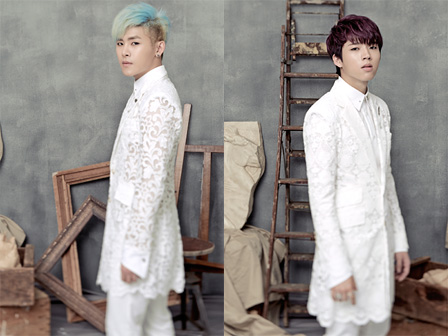 --- It's a really famous story that they practiced over 18 hours a day.
The choreography made by their efforts are ART WORK!
People must be surprised at the highly quality of their choreography.
[youtube https://www.youtube.com/watch?v=G6KPLwR_Dcw&w=420&h=315]
---We guess they don't like to be focused on their "synchronized rate" much
because they've been asked thousands of questions about it..
【SungKyu】
It's better if the synchronous rate of our choreography is higher, but not necessarily to
stick to it too much.
All of us just move trying to synchronize our choreography, but there is
no obsession on it.
【Hoya】
It's important to make the angle or the line properly, but I think it's more
important to express the feeling we got when we listened to the song with a
whole body.
---To enhance the synchronous rate is such natural for them.
The beautiful synchronized dance of Last Romeo is sorrow as well as passionately.
【WooHyun】
"Last Romeo~kimiga ireba ii~"is the song which expressed the sorrow feeling
of Romeo. This song has the phrase "Kimiga ireba ii" so many times. We should put
our feeling there the most, and also the choreography for this phrase is special.
We'd like you to enjoy this part with our eyes and ears.
【Hoya】
We use our pelvis the most ever in this dance so that I think we can appeal to
a lot of women with it. 
---Their ability is not only the synchronized choreography, but they've been learning the music
and acting at university. Also they can compose songs by themselves as well.
【SungKyu】
I've been majoring in singing in a practical music department, and learning
the theory of music, vocalization, pronunciation and direction.
I think learning the basic knowledge of music helps recording and performances a lot.
【WooHyun】
We have to overuse our throat while tight schedules, but the knowledge for the warm-up
and singing which I learned at school is really helpful to care of my throat.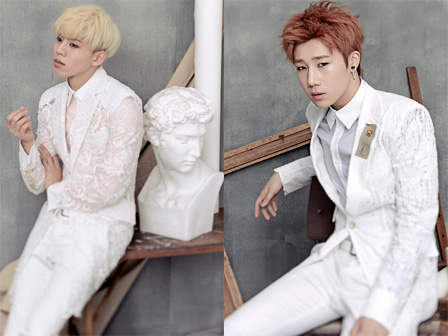 【Hoya】
Of course everything we can learn at school about music is helpful, but
our job is expressing the various feeling, so all the experiences through living
are big help. We can refine our sensitivity with each experience such as sad/ happy
moments and farewells. So, I'm trying to think of hard time as it'd be a big help
later. Music is not only the thing we can study.
【SungKyu】
As Hoya said, everything will be a big help in our future. I took a lot of auditions
After I came to Seoul from my hometown while working and dreaming to be a singer.
I could get various feeling by failing a lot in those days.
---Yes, they are not elites, they had hard time to become a singer.
【Hoya】
I took auditions about 20times.
【WooHyun】
I took 4times before, and fortunately I could belong to this production thanks to
the opportunity when I appeared on TV as a commoner.
【MyungSoo】
I also took various auditions, but at last I came to this office with an introduction.
【SungYeol】
I was originally interested in acting, so I worked on dramas and movies as extra actor
without choosing the roles.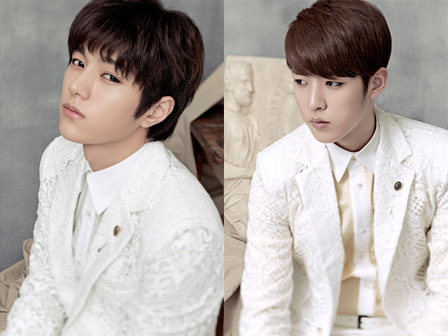 【DongWoo】
I've experienced 8 auditions.
【SungJong】
Fortunatelly,, my first audition was here..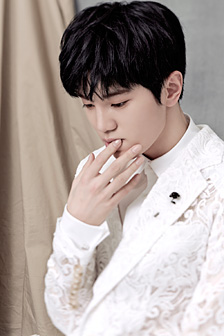 【SungKyu】
Only SungJong won the lottery.
I've worked at Korean BBQ restaurant or coffee shop up till I came to this office.
Those experiences help me a lot through living. Now I'm a singer, but can make
delicious coffee and can grill meats well.
---6members except SungJong experienced lots of breakdowns, also
WooHyun had been swindled by false production company.
Why Hoya who failed auditions 20times didn't gave up though it's
natural to have his spirit broken?
【Hoya】
It's a bit strange to me, but I didn't feel sad to fail the audition. Since I had a
dream to become a singer for long, I believed that I can make my dream come
true someday. When I failed the audition, I thought it as the production was not
for me. At last I could belong to this office after I repeated those experiences again
and again. If I had had failed the audition for Woollim, I would have repeated having
auditions for other productions. I think my persevering efforts like them made me
stronger, so I don't think I'll give up easily.
【WooHyun】
Only SungJong might give up easily because he passed the 1st audition 
---INFINITE is the group which can keep challenging even if they'd face
difficulties. SungKyu said "There's some feeling which we could get thanks to fails."
and WooHyun said "I'd like to be as 'INTINITE' till the time when I feel the limit."
---We'd like to see such old INFINITE someday though the oldest brother SungKyu
is still 25 years old. We're looking forward to works they'll produce in their future.
SOURCE:CINRA.NET
http://www.cinra.net/interview/201406-infinite?page=2
☆★☆★☆★☆★☆★☆★☆★☆★☆★☆★☆★☆★☆★☆★☆★☆★☆★☆★☆★☆★☆★☆★☆★☆★
Credit:
All English Trans by @MineMyngsL of InfiniteUpdates
Please take out with proper credit, Thank you! :D