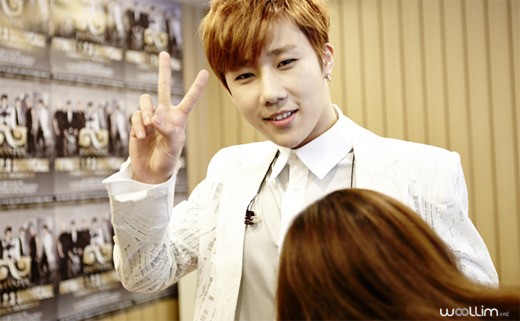 Whether it be shining onstage, being funny on variety shows, or good at acting. Usually there are 3 major reasons that idols draw attention to themselves. Infinite's Sunggyu does not belong to any of them. He is the main vocalist but it is difficult to say he is a vocalist with enough force to draw attention from outside the fandom as well. No sooner than he appeared on KBS <Immortal song> and left an impression as an 'idol who sings well', his solo album released in 2012< Another Me >is somewhat separated from the interest of the public. And so it often becomes the subject of teasing as a 'failed album' with his protests that "Its rare for a solo artist to sell 70/80 thousand albums". Sunggyu did not become a hot topic due to his excellent sense of entertainment like Kwanghee from ZE:A or by continuously acting like his teammate L. Moreover he has an average appearance for an idol with eyes small enough for Sunggyu to say himself that he feels empty without eyeliner. So Sunggyu who appeared on MBC <Radio Star>'s 'strange people' special said "When I became an idol I heard I was unusual so many times."
But, even people with no particular interest in idols know Sunggyu. This is due to his performance on tvN <The Genius: rules of the game>. Hong Jinho, Lee Sangmin, Kim Kyungran and Lee Junseok, amidst such players who seemed to be strong at mind games and with wordly wisdom it was difficult to predict that 25 year old idol Kim Sunggyu was going to be a prominent player. But while easing other players' wariness by showing he didn't understand the rules on the first go he survived until the top 4. When it was required he even betrayed but appeased people in different ways so they wouldn't turn their backs on him forever and repayed any favours he received. His characteristic friendliness and gentleness of calling the female players and the female dealer "noona" was the foundation. In addition through joining with Lee Sangmin to create a combi play which was closer to comic talk and so as a good variety show character secured entertainment. In <The Genius> where there is no option but to show self-centred human nature, Sunggyu didn't receive any hostility from viewers while achieving his goal. It amounted to him showing a model of community life in a broadcast which was set out like a small community. His appearance on JTBC's <Crime Scene> drew attention because of this very reason. He made them anticipate not because he's a popular idol but because he is Sunggyu.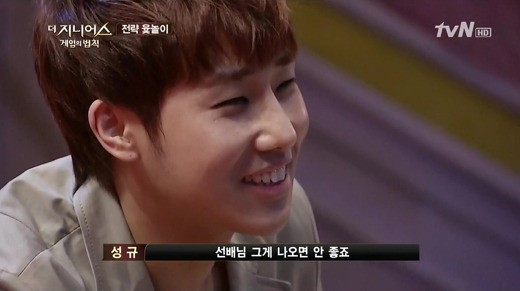 Of course <Crime Scene> where a truthful investigation and finding the criminal is more important is an entirely different program to <The Genius> where the core is creating relationships. Sunggyu failed at arresting the criminal by selecting innocent Hong Jinho instead of Park Jiyoon. This is not something to be disappointed about. Rather this result reconfirmed his attitude to find what he has to do by grasping the situation and the position he is faced with, and not his remarkable outstanding brain. In Infinite he is a strict leader who settles his members whose minds have started to slack off, in Mnet <Sesame player< he is a meticulous leader who understands what to watch out for when facing each member and is the easy to tease eldest member who sometimes gets teased even by the youngest member Sungjong in MBC everyone's <Weekly idol>. Collecting suggestions from his members and passing them onto the company or drinking with the head of the company CEO Lee Joongyeob is allocated to Sunggyu too. "He became the leader because he is the eldest but he's not just nominal leader but an entity that the company, members and fans can practically trust and rely on" (CEO Lee Joongyeob). He is really an idol whose role and character is a leader. 
In short, he's a boy who goes beyond befitting a leader and has no choice but to be a leader. When he became the subject of controversy due to calling Park Eunji 'sly' (yomul) in a behind the scenes video of <The Genius>, he didn't make excuses and posted an apology on his twitter (yomul: when aimed towards women, describes a woman who is good at luring in men for her benefit). Thanks to this the impact on Sunggyu from the situation did not get any larger. Sunggyu became Infinite's leader due to the attitude and temperament he was born with, and he finally managed to persuade people who weren't fans as well. And that, to the public, made him the face of Infinite. Infinite might not be the most handsome or most talented team. But whilst properly satisfying the fantasy of boygroups as smart, polite and funny guys in their 20's they are a team that can feel endearing to anyone. In one interview Sunggyu said this as a joke. "I don't want to think of my team without myself." Everyone is probably thinking the same thing
Source: Naver news
Translated by Yeji for (infiniteupdates.wordpress.com)
TAKE OUT WITH FULL & PROPER CREDIT