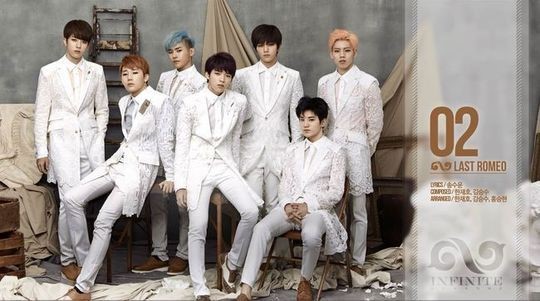 [OSEN=Lee Hye Rin] INFINITE who is coming back with 'Season 2' on 21st has released its preview on May 16th.
INFINITE's entertainment, Woollim Entertainment opened its preview video on the official website at 12 a.m. They provided pre-listening songs such as the title song 'Last Romeo', Sung Kyu's solo song 'Light', Woo Hyun's 'When I Close My Eyes', Infinite H's 'Alone', Infinite F's 'I feel Crazy'.
The entertainment explained that 'Season 2' would be a suitable album for starting new. They added that the results of the members' hard work, living at the recording studio, even though they had tough schedule are contained in the album.

At May 21st, 'INFINITE 1. 2. 3 Showcase' will be held at Jamsil Students' Gymnasium in Seoul having 5,000 seats. INFINITE is holding their showcase in Korea, Japan, and Taiwan for 3 days starting from May 19th. They will hold it on 19th in Japan, 20th in Taiwan, and 21st in Korea which is the release date of their album.
[Copyright ⓒ 한국 최고의 스포츠 엔터테인먼트 전문 미디어 OSEN(www.osen.co.kr) 제보및 보도자료 [email protected] 무단전재 및 재배포 금지]
Source: Star Naver
Shared by L for (infiniteupdates.wordpress.com)
TAKE OUT WITH FULL & PROPER CREDIT