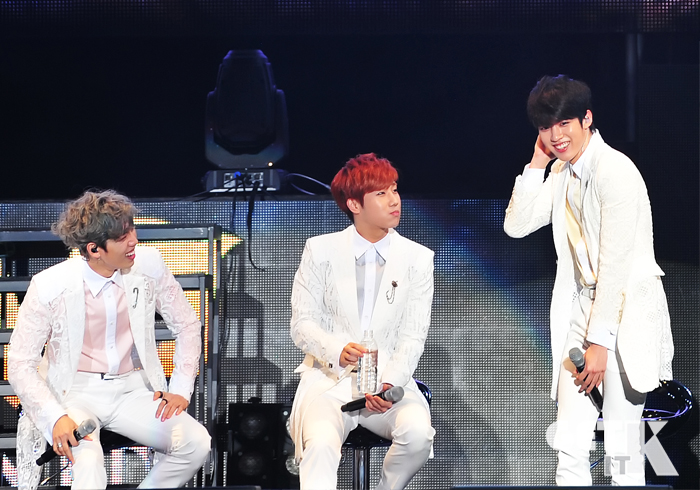 The showcase for the release of the 2nd album of INFINITE was held at Jamsil Students' Gymnasium in Seoul on May 21 after the press conference. The MC was Park Kyung-lim and about 5,000 fans went to the showcase, proving its huge popularity.
Park Kyung-rim, who was the MC of INFINITE's first radio program said, "I never expected that INFINITE would become a big world star." INFINITE sang 'Memories', 'A Person Like Me' and 'Last Romeo'.
'Memories' was the first song INFINITE sang. They wore white suits and looked even better than before, fascinating the crowd. INFINITE members greeted the fans.
INFINITE members changed their fashion styles. For example, Dong-woo and Hoya tried new hair styles. About sharper face shape Sung-kyu said, "I never exercise without reasons. I went to the gym with Dong-woo and worked out hard together."
About the intention of the huge scale showcase tour in 3 countries, Woo-hyun said, "After meeting Asian fans during the world tour, we wanted to meet them again for 'Season 2' album.
again for 'Season 2' album.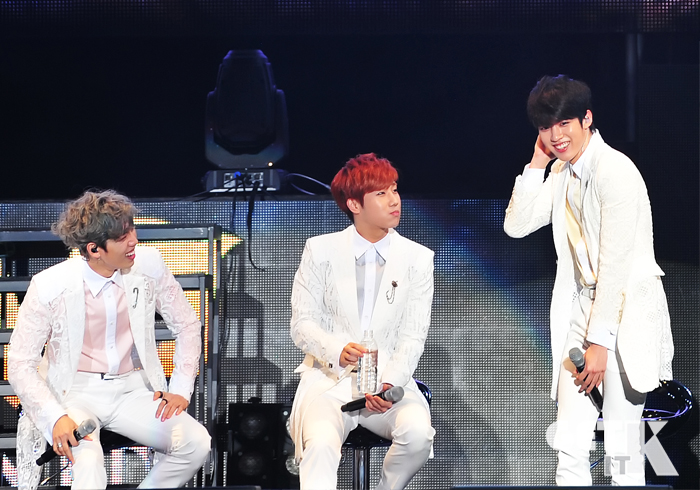 Sung-yeol acts like his character in 'Love For Ten – Generation of Youth'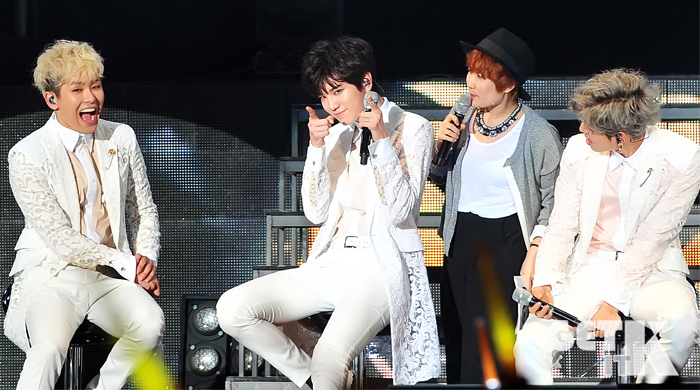 Sung-jong acts cute and charming! Hoya was surprised to see it
INFINITE members have performed individually until they're back for the new album. INFINITE members showed many facial expressions for the fans such as L's sly eyes, Sung-kyu's depressive eyes and Hoya's the 1997's eyes.
They chose their favorite songs included in the new album. Woo-hyun picked the 12th track, 'Close Your Eyes', Sung-jong chose 'Memories' and Sung-kyu said 'A Person Like Me' is his favorite.
Sung-kyu told some episodes happened during recording the album. He said, "While recording the song written by Woo-hyun, Woo-hyun scolded L for not singing well. When they were in the van, L felt said and complained about it. Woo-hyun once told me you are better at singing the songs I wrote." Everyone in the crowd laughed hearing that.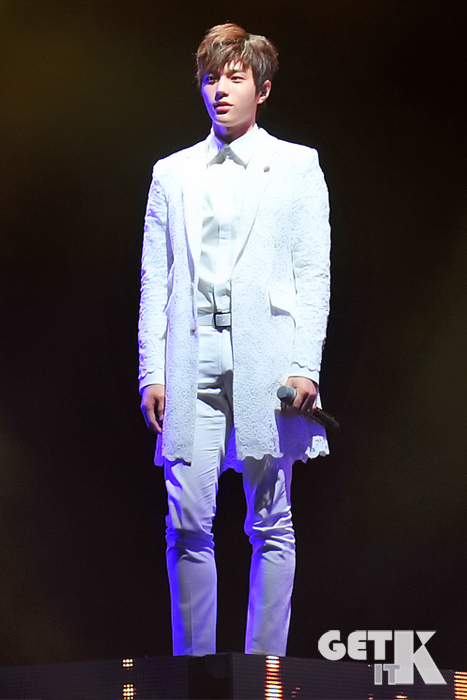 L still looks fantastic
INFINITE had to shoot the music video twice due to an internal affair. The lead actor was changed from L to Woo-hyun.
Hoya said, "We'd like to become the last men for you. As the title song is 'Last Romeo', we would like to give the love back to you, you gave to us while waiting for the new album. About his articulate comment, Park Kyung-lim said, "You must read a lot of books." Hoya made a witty comment, saying "I read your autobiography."
The members said, "We will kick out the official performance for the new album tomorrow. Look forward to our summer concert. And there will be a big scale fan meeting." They finished the showcase with their title song 'Last Romeo."
INIFINITE successfully released its 2nd album after 3 years and held big showcases. INFINITE will continue its music career with new music.
Source: getitk.com
Shared by L for (infiniteupdates.wordpress.com)
TAKE OUT WITH FULL & PROPER CREDIT