Fans shouted "사랑해"(I love you in Korean) to Hoya and he answered "I love you too (in English)" and then added "I answered in English cause we're on our world tour" (cr: Allaboutmang7)
Fans said "awww" when WH was going to talk so SY said "no no no today's a cheerful day, don't make him cry" (cr: Allaboutmang7)
Kyu was talking and Yeol just put his jacket a little off and the Inspirits died. Kyu didn't understand why OTL (cr: meyluzine)
WH: our fans are so smart. They know us so well. When you chant "돌아와 돌아와" we can't help but come back out (cr:Allaboutmang7)
They said there'll be new projects this year (not sure) & Kyu said "Kyu's second album.. no I'm joking not now" (cr.meyluzine)
Sungkyu: our parents came to our concert today. We're gonna sing 엄마. I'm really nervous (cr.allaboutmang7)
Woohyun bought the ring that he gave to the fan with his own money (cr:paradi7e)
A lucky fan got a ring from Woohyun (cr:Fantastickwon)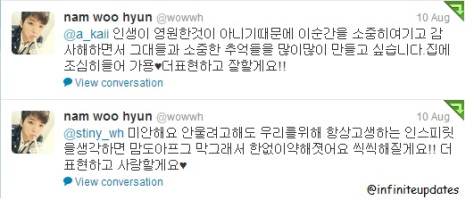 Woohyun tweeted after  Day 1 concert telling the fans to go home safely and ask them to tweet him if they did (arrived home safely).
"@wowwh: 다들 조심히 들어가셧는지 걱정이네요 멘션남기면 볼테니 잘들어갓다고 말해죠요!!"
TRANS: I don't know if you all went back home safely so I'm worried
If you send me a mention I'll see it so please tell me if you went back home well!!
trans. cr; saphira @ infinite updates (tumblr) ; take out with full credits
On Day 2, after the concert. Woohyun replied to fans. 

WH said after he posted his tweet at 2AM in the morning he was up till 3:30AM reading the mentions. (cr.allaboutmang7)
Woohyun gave a plane paper hand to hand to a fan ㅠㅠㅠ (cr.meyluzine)
INFINITE send signed paper planes to the fans.  (cr:gagamel_s)
@@img-2@@
Woohyun starts crying when he sees the surprise from fans (Day 2)  (cr.myeollypop)
Sungyeol asked the crowd to cheer Myungsoo's name because Myungsoo was so shy about his solo (cr.myeollypop)
Sungyeol called for his mom from the crowd and asked if she cheered for him (cr.myeollypop)
Woohyun starts crying when he sees the surprise from fans (cr.myeollypop) 
pic cr: kyulovesme
pic cr: Lolly Polly
pic cr: Oriental Storm
pic cr: Hogam and Oriental Storm
pic cr: 메리쫑쫑
[PLEASE TAKE OUT WITH FULL CREDITS]
posted by: ANJELLIE_KA for INFINITEUPDATES