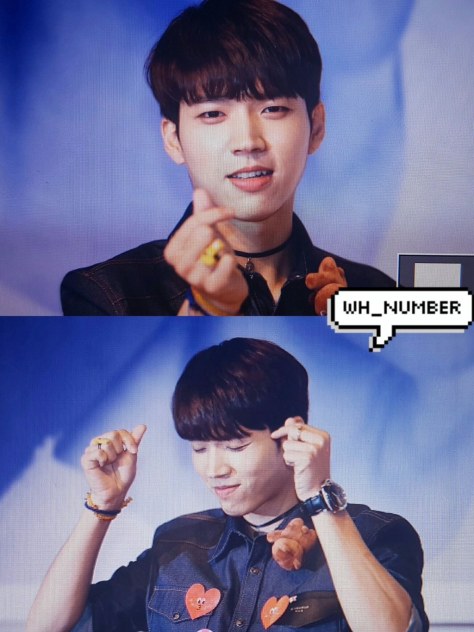 Many of you probably know that INFINITE has huge love for their fans.
Fan signing event stories of Sungkyu and Hoya are already famous for tsundere and making people fluttered.
But not many of you know about Woohyun, so I've collected these fanacc.
He had four fan signing events for his solo album promotion, and those are all legendary.
1. WH and fans talked so long during event ㅠㅠㅠㅠㅠ Even when staffs ask fan to leave the table, WH was keep holding their album or their hands, while talking to them ㅠㅠㅠㅠ
2. Fan: Am I cute?
WH: Of course
Fan: Do you like me?
WH: No, I love you.
3. When he was talking with one fan, staff told fan 'Now you should leave the table'. But WH said 'She will leave after I listen what she was saying' ㅠㅠㅠㅠ Nam Woohyun I love you ㅠㅠㅠㅠㅠㅠ
4. (Fan told WH that she skipped the study for this event)
WH: (Nodding while talking) So, you skipped study yesterday for the Dream Concert and also today? You skipped them all?
Fan: (Nodding)
WH: (Pretend to tear the album) And you will tear this, too? (T/N: 'Skip the study' and 'Tear' has the same pronunciation)
Fan: (Started to cry again because she was so nervous before her turn)
WH: Why are you crying? Oppa feel so sorry to tease you (wipe her eyes)
5. Fan: Heheh (Giving choker) Oppa, Can you please put on this once?
WH: Yes? Where should I put it on?
Fan: On the neck!
WH: Neck? Please put it on by yourselves~
Fan: Y..Yes? Yes..! (Trembling)
Manager: No. It will take too long. Just put it on arm or else leave now.
Fan: (Hesitating)
WH: Ah, let her do that. She is now trying to put it on my neck. Keep go~ Please put it on for me~ (Calling fan's name)
Fan: (Trembling)(It was not fit with WH's neck, and she was struggling with the choker)
Manager: No. It's small. Small. You should leave now~
WH: No, it's done! Thank you~ (Held fan's hand and shook)
Fna: Hehe. Oppa, please leave your handprint on this album...
WH: Handprint? Ha~ (Blew on the album and left handprint) Touch this when you want to hold my hands!!ㅋㅋ
6. Fan: I bought 'Where's Wally/Waldo?' for oppa.
WH: Oh.
Fan: You are smart, so I bought a difficult one.
WH: It's cute. (Signed for her and called her name, held her hands)
Fan: Oppa, I was hurt while giving out free slogans in dreamconcert yesterday.
WH: You came yesterday? I told you not to hurt yourselves. Don't be hurt.
Fan: Can you blow on my wound?
WH: Hoooooo (Blew on the bandage)
After that they shook our hands again and fan gave him a handkiss, so WH replied with heart with his kiss on his hands.
7. WH: Your smiling eyes are charming
Fan: Ahhhhhh Thank you ㅠㅠㅠ
Oppa, how was the Dream Concert?
WH: How was it for you?
Fan: It looked so great ㅠㅠㅠ How was it for oppa?
WH: Didn't I look so happy? Our fans were so cool and great.
Fan: Oppa, can I talk down to you once?
WH: Okay.
Fan: Woohyun-ah, please marry me. How about two babies?
WH: How about three? Is it okay for you? Can you do well?
Fan: Absolutely okay! I can do well!!!!
WH: ㅋㅋㅋㅋㅋ So cute.