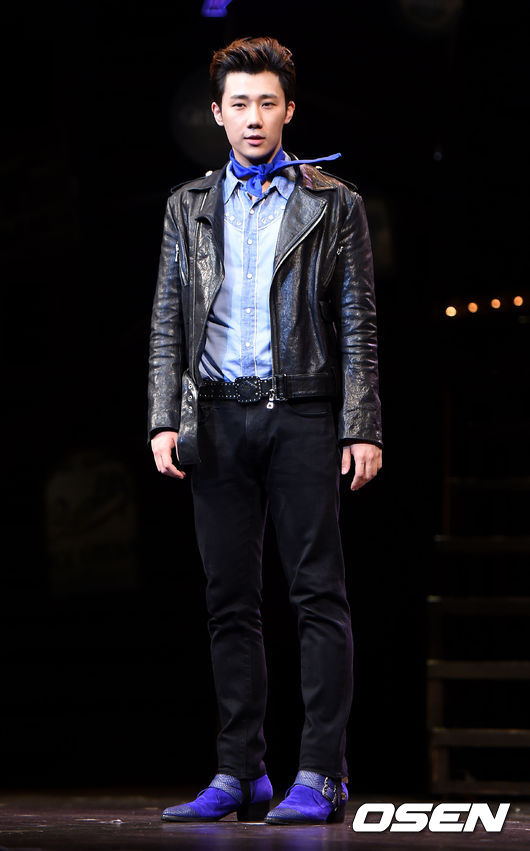 INFINITE Sunggyu turned into 'Kyuvis'. From idol to vocalist, and now he has reborn as a musical actor. The improvement of Sunggyu was admirable.
'All Shook Up' is the musical consisted with Elvis Presley - the icon of the century - 's songs, and play premiered in Broadway in Feb 2005. Now it has settled down as the steady seller of jukebox musical.
In 'All Shook Up' this year of Korea, Elvis will be performed by three singers. Wheesung who is already famous with his singing ability, INFINITE Sunggyu who is admitted as one of the best vocalist among idols, and Choi Woohyuk who has debuted with musical 'Frankenstein'.
We were able to confirm their talents through 'All Shook Up' presscall which was held today(22nd). Wheesung's Elvis could be called as 'Veteran', Choi Woohyuk's Elvis was 'Fresh' and Sunggyu's Elvis had an attraction of refreshing image.
Moreover, Sunggyu appealed his serious attitude about acting and music with his charisma and presence which were different with when he were on the stage as INFINITE. His character was cheerful and he acted with fresh tones so it was suitable for his character, young Elvis.

For ambitious girl Natalie who decided to dress up like a man for her love for Elvis, Park Jungah, Ahn Siha, J-min joined in this musical to add up vitality. Three of them all has different charms so this musical also gives a fun to audience by giving them a chance to choose which pair to watch. As Dennis, who are jealous about Elvis because he loves Natalie, Ahn Seha attracted audiences' eyes by acting his funny character.
After their performance, actors and actresses answered the interview about their impressions about their characters. Especially Sunggyu who was highly synchronized with young Elvis answered cleverly, 'I think I resemble him at the point of loving music', 'I think I am also traveling to accomplish my dream as a singer'.
And for the question asking the difference between Elvis and him, he answered that - Elvis is worldwide famous superstar, but he is not a superstar yet -, making every audience laugh at his answer.
This is the fourth musical challenge for Sunggyu. But this is the start of his career since he keeps challenging, not dwelling on the fame he gained as an idol. We are looking forward to his development.